You're ready to pop the question yet you have several inquiries regarding how to buy an engagement ring online.  Your father and grandfather didn't have the luxury of buying rings online but times have changed.  While it's convenient to buy online, you still need to know a number of things before making your final purchase.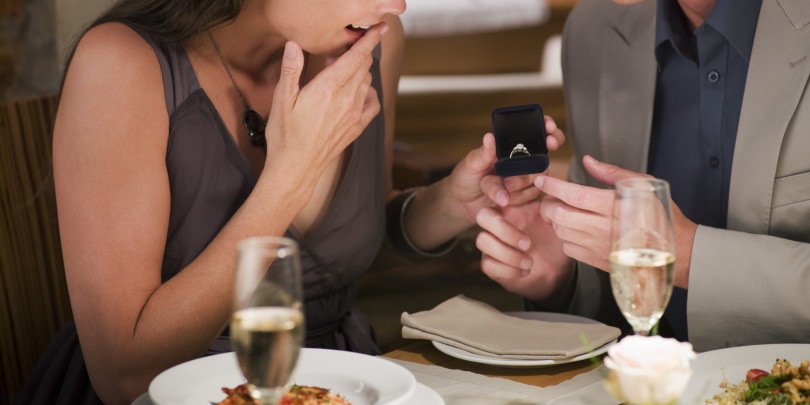 Strokes of Quality
Even if you're not a gemologist, it's easy to observe elements of quality when you can see a gem in person, a luxury you don't have when buying online.  However, you can compensate for the lack of presence by reading reviews and perusing a site's return policy.  If reviews, testimonials, and policies are not enough, check the e-tailer's standing with the Better Business Bureau.
Number of Options
Depending on the vendor, you may be able to preview your chosen gem at a brick-and-mortar location.  In other instances, online jewelers may have affiliates in the area, partners that will receive the gem so you can see it in person before you buy.  In addition, though you don't have to deal with a salesperson when buying online, most online vendors have representatives available that can guide you through the buying process.
Balancing Options
You'll want to make your eventual purchase online to save money but that doesn't mean offline vendors will not be useful.  Go to brick-and-mortar stores to get familiar with modern-day settings and options.  Furthermore, allow salespeople to educate you on the four 'C's' related to diamonds and use that insight when buying your Sapphire wedding ring.
Certification of Diamond
Your diamond may be the most important item you ever purchase for your loved one.  Therefore, it's crucial that you know it's legitimate.  Always buy stones that come with a third-party validation, such as accreditation from the Gemological Institute of America or the International Gemological Institute.
Free of Guilt
Some women will not accept a diamond ring because they have heard horrible stories related to 'blood' diamonds, stones sold illegally that fund civil wars overseas.  However, tight regulations have decreased the number of 'blood' diamonds on the market.  Ask your jeweler for a certificate that ensures the diamond was acquired ethically.  A legitimate vendor will understand those concerns and have no problems with that.
Soundness of Shipping
Buying online is simple once you know what to look for and who to trust.  After the purchase, you'll want zero anxieties regarding the shipment of your precious gem.  Top carriers such as FedEx or Express Mail are fully insured, so in the event that your package is lost or stolen, you will have no problems in securing a replacement.
Return Policy
In worst-case scenarios, the gem arrives and is not what you expect or was somehow damaged enroute.  Read the return policy of your chosen vendor.  Most provide a window of 15-30 days in which you can return a purchased ring.  Some additional fees may apply so be sure to carefully read a vendor's policy.
You've gathered enough courage to ask and now it's time to choose that special ring that will help persuade her decision.
Naomi Chan has many years experience working in the wedding industry with soon-to-be wed couples. Most recently she has started to take more of an interest in consultancy, and uses her experience to write articles for wedding and relationship sites.