Talking naughty online comes along with the territory, especially if you're doing something like adult dating. It's a great way to rise the temperature and to get two people to feel excitement so they can have the modern equivalent of phone sex. We can call it 'cam sex', but webcams aren't always necessary. Some people are happy just to get their rocks off by typing dirty messages on their keyboards, it is all about the simple pleasures. The one thing however is that not everyone knows how to talk about sex online, but it is not really that complicated.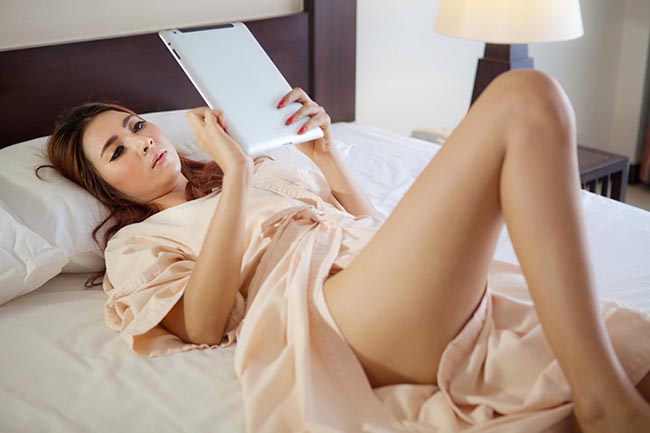 Adult dating
Talking dirty to strangers can be a real turn on, in fact it is easier than doing the real thing. No need to go out and meet the person, instead you can just stay behind your computer and enjoy all the fun. People generally use adult dating sites like thesexchatsite.com where they can meet other adults to have a bit of online sex. It is convenient, it is easy, and it actually feels pretty good too. But you should always take a bit of time to figure out who you are talking to before you decide to take off your clothes in front of your webcam. So take the time to chat normally at first and over time you might trust that person enough that you will want to get intimate with them.
No rushing
That's the thing with being excited and horny; we don't always have all our brains together. We rush towards getting our clothes off but we really don't know much about the person we're about to get dirty with. It is important to manage your feelings and your emotions, even when you're feeling excited. The best way to do things is to chat in small bursts. Don't let the conversation last too long, instead just exchange a few naughty words and agree to carry on talking the next day. You will still get a rush from that chat but you will also have the time to put it all into perspective. Ask yourself some questions: "why is that person insisting that everything happens now? Are they really who they say they are? Do they talk too much about money?" All those points will help you to figure if you're actually talking to someone who is genuine.
A respectful tone
We have all seen naughty movies where the men talk to women like crap, but this is not how real life works. Putting people down, calling them derogatory names doesn't work for most people, so stay polite and friendly instead. Sure you still have to make naughty conversation but it doesn't mean disrespecting the people you're talking too. Lack respect and people will want nothing to do with you, and you can't just hide behind your computer expecting no consequences from your actions. People can get hurt and if they do they might seek ways to find you, and we all know how easy it is these days thanks to social media. So remember: respect comes first, then naughtiness afterwards.